Di Stefano FORTE – Intense Full Body: $44/1kg
For those that like being clubbed to life with coffee

– 95% Arabica 5% Robusta
– Post blended – Colombia, Brazil, Nicaragua, India, Indonesia
– Roast type = Dark
Not for the faint hearted, Forte exhibits dark, intense cocoa tones with a natural earthiness from the Indonesian in this blend.
With flavour notes of spiced cinnamon, fig and dark chocolate, this coffee defines full bodied.
With an intense thick and caramelised mouth-feel, and slow enjoyable syrupy finish. This coffee is great in the morning and should help you battle on through the day until you get your next caffeine fix.
Di Stefano FAIR TRADE ORGANIC – Sweet Berries: $44/1kg
Great as a short black coffee and holds balance in milk


– 100% Arabica
– Peru, Honduras
– Roast type = Medium
On the palate, our FTO has a remarkable acidity with distinct lime citrus and grapefruit notes and aromas.
With its unique roast profile designed specifically to elevate the sweeter caramel and brown sugar characteristics.
It is a complex coffee with a great depth and encompassing body, and a lingering velvety finish.
Fair trade certified and sourced from Fair trade producers.
Total 100% Fair trade means fairer trading conditions and opportunities for producers in developing countries to invest in their business and communities for a sustainable future.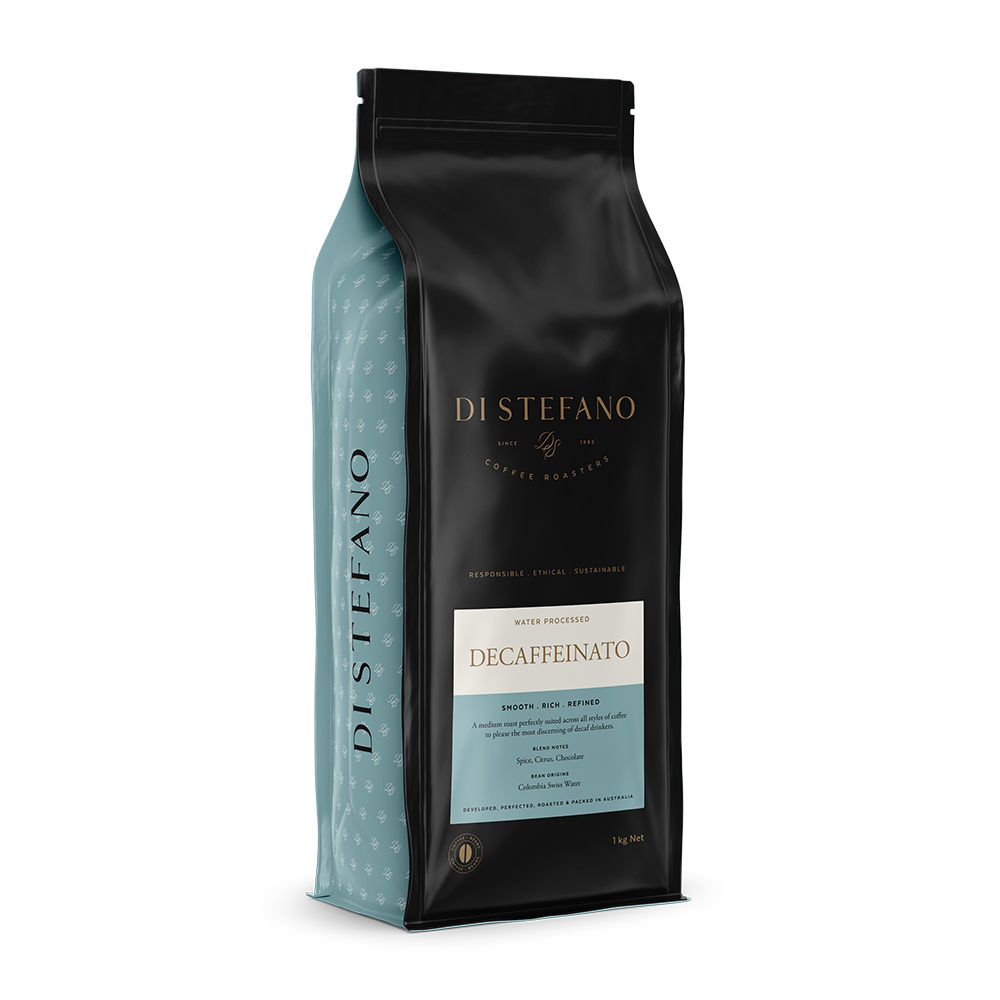 Di Stefano DECAFFEINATED – Rich Espresso Flavour: $48/1kg
Great for the milk and black coffee drinkers

– 100% Arabica
– Colombia, Swiss Water Processed
– Roast type = Dark
For the coffee enthusiast who wants to experience the thrill without the concern of caffeine, the SWISS WATER Process is a taste driven, 100% chemical free decaffeination process that uses water from the coastal mountains of British Columbia.
Don't let the words fool you though, this coffee is rich in taste with pleasant milk chocolate flavour, light to medium bodied with a sweet malty finish.
Spiced Chai Powder: $34/1kg
Hot Chocolate Powder: $12.5/1kg